http://http://dangxuanquy.googlepages.com/Demo_Ownz_v.3.rar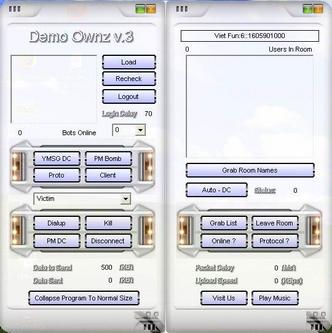 Unlimited Login, 9 Boot Options, Upload Meter to Measure Booting Power,
Integrated Captcha to Grab Roomlist, Knock to Retry Entry of Full
Rooms, Auto-DC, Online and Protocol Check, DC Options Hit Messenger
versions 7-9.
Best viewed in WordPad. Click View > Options > RichText > Wrap to Ruler
Option Notes:
YMSG DC
- Silent DC for 8 and 9. Also affects 3rd Party Clients, depending on configuration.
Disconnect
- Silent disconnect for most messenger 7 users.
Dialup
- Sends repeating-character packets that are easily compressed by some dialup modems for extra speed.
Online Check
- 90% accurate; it will give false positives every now and then. Scan is not visible to your victim.
Protocol Check
- Same as above. Will tell if your victim is using plain YMSG or Gawd mode.
Auto - DC
- Checks the victim's online status every 8 seconds, then sends packets if they are online.
The rest is self-explanatory. If you can't get a handle on it, drop by Demo's site (http://www.demo-ownz.net/home/index.php) and post your questions in the forum.
This program also keeps your bots alive for hours at a time by pinging them every 3 minutes. You can walk away from your desk, then come back an hour later and boot with the same bots. They won't logout or error out on you. If you are booting with a 0 packet delay, the upload meter may not read that you are sending packets...simply because they are sent so fast that it does not have time to register the data.

Credits:
The .dll I use
to login was compiled by ScriptedMind, and the function used to grab the RoomName list and categories was not written by me. In the interest of quick updates, I have neglected to spend a day learning to code such a function for myself. No sense in reinventing the wheel. I will add my own version of the roomlist grabber at a later date. Thanks to the original coder
musiknya siapa yang ada di Demo Ownz V.3......
klo ada yang tahu...mohon kasih tau....please
member





Number of posts

: 2


Registration date :

2009-12-18




---
Permissions in this forum:
You
cannot
reply to topics in this forum